The Teotihuacán's pyramids consist of the Pyramid of the Moon and Pyramid of the Sun.  A Teotihuacan Pyramids tour is only an hour drive from Mexico City and everything could be seen in a day.
$31.03
$49.95
in stock
28 new from $26.31
27 used from $24.95
as of February 19, 2022 3:26 PM
$25.50
$30.00
in stock
34 new from $20.15
41 used from $15.64
as of February 19, 2022 3:26 PM
$24.92
in stock
5 new from $19.29
as of February 19, 2022 3:26 PM
Last updated on February 19, 2022 3:26 PM
During my visit to Mexico City, I knew I had to visit the Teotihuacán's pyramids (i.e., Pyramid of the Moon and Pyramid of the Sun) since I have always wanted to see the Egyptian pyramids.  I wanted a taste of what it's like to lay eyes on something larger than life and to walk in the shoes of people of the past.   I found a tour that interested me.  It was this Early Morning Teotihuacan Pyramids Tour with a Private Archeologist for $45.
The tour departed from Mexico City and it didn't take the whole day.  It stated 7 hours but it ended up being around 8-9 hours due to hotel pick-ups and drop-offs.  It included hotel pick-up/drop-off from Central Mexico City, entrance fees, a lunch destination, tequila shots, and enough time to see both the Pyramid of the Moon and Pyramid of the Sun.  However, they recently excluded the hotel pick-up/drop-off and changed it to central meeting points in the areas of Polanco, Zona Rosa and Downtown of Mexico City.   It's still a great deal for their current sales price of $38.
The tour guide arrived at my hotel at 7:00 AM.  The tour bus was filled with only 8 people and we picked up another 6 before heading out to Teotihuacán pyramids (Pyramid of the Moon and Pyramid of the Sun).  It was a small group in a roomy air-conditioned bus.  We arrived early in the morning around 9:00 AM and there was no one there.  We were the first people to visit the site before anyone.  It was clear shots before the crowd started to come.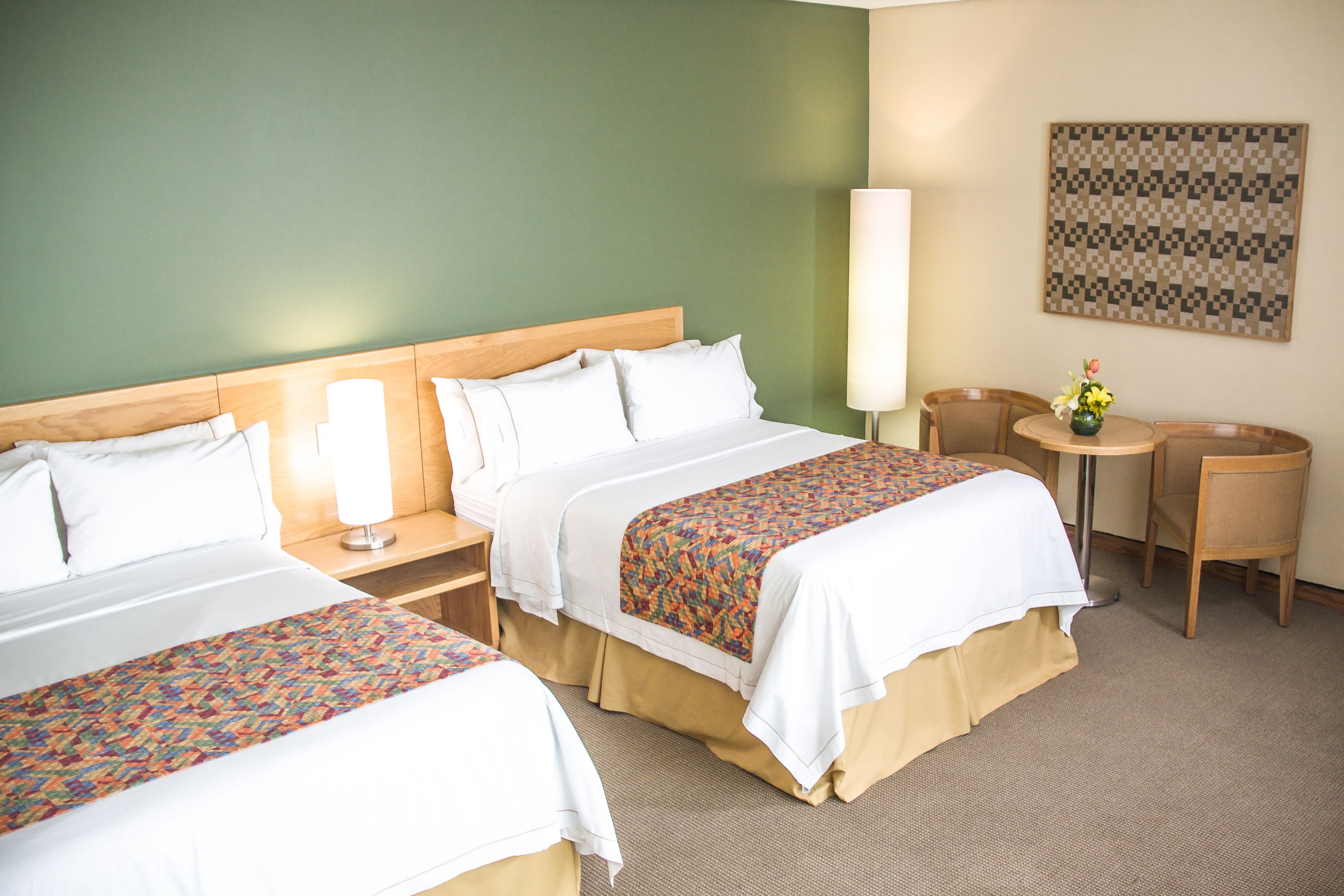 The tour guide was knowledgeable and extremely friendly.   He was a treasure chest of information, had a sense of humor, and kept the group on track.  He gave us an hour to climb both Pyramid of the Moon, Pyramid of the Sun, and take pictures.  The whole Teotihuacán pyramid tour lasted about 4 hours then we were off to lunch at a nearby all-you-can-eat buffet serving authentic Mexican cuisine.  However, the meal wasn't included in the tour price.  It came out to be about $15 per person which is relatively cheap for a buffet when compared to the Vegas buffets.
After lunch, we headed towards a Teotihuacan tequila making shop where they made their tequila out of agave.  The large agave plants were split open for viewing as the host told stories of the history behind the agave plants.  The stories included 5-6 rounds of "sample" shots from sweet to sour tasting tequila.  It was a good time as I laughed then roamed around the gift shops looking for gifts for my siblings.  The stone gifts are made out of the same materials as the Teotihuacan pyramids.  They had mini sizes of Pyramid of the Moon and Pyramid of the Sun.
It was good time.  We were back at our hotels by 5:00 PM to relax before dinner.  I would highly recommend taking this tour.  It includes the following:
Full-day tour of Teotihuacan (Pyramid of the Moon and Pyramid of the Sun) from Mexico City
Enjoy the spectacular monuments of the UNESCO World Heritage-listed Teotihuacan
Admire the Temple of Quetzalcoatl, the Avenue of the Dead and Quetzalpapalotl
Hear historical anecdotes and fascinating facts from your expert archaeological guide
Enjoy liqueur tastings of tequila, mezcal and pulque
It's a cheap price that includes alcohol, round-trip transportation and a full day of Mexican culture.  I highly recommend taking this tour and there are 515 other people who given it 4.5 stars.  Click on the picture to take you to directly to the page.
Check out our other Mexico articles here.