Tim Raue is located right next to Checkpoint Charlie on the Southside of Berlin.  It's a very elegant restaurant with a relax atmosphere.  Here are Tim Raue's accolades:
$19.92
in stock
6 new from $17.15
as of March 28, 2023 4:40 AM
$21.99
in stock
as of March 28, 2023 4:40 AM
$17.59
in stock
2 new from $16.99
as of March 28, 2023 4:40 AM
$73.00
$99.99
in stock
24 new from $73.00
4 used from $64.99
as of March 28, 2023 4:40 AM
$31.42
$49.95
in stock
67 new from $30.81
39 used from $25.04
as of March 28, 2023 4:40 AM
Last updated on March 28, 2023 4:40 AM
2 Michelin stars in 2014
2 Michelin stars in 2015
2 Michelin stars in 2016
2 Michelin stars in 2017
#78 on the San Pellegrino 2014 World's Best Restaurants
#52 on the San Pellegrino 2015 World's Best Restaurants
My Europe tour comprised of 11 different countries and 13 different cities in Western Europe, Ireland and England.  My agenda comprised of major culinary cities like Rome, Barcelona, San Sebastian, Paris, and London.  However, my one allocated day in Berlin consisted of major Berlin sightseeing landmarks like the Berlin Wall and Tim Raue.
I hopped off the plane from Paris at TXL then hailed a cab to my hotel.  After checking in, I had a list of about 10 landmarks to see and only a few hours to do it especially in the rain.  I quickly grabbed my jacket then stopped by a department store to grab an umbrella cause it started to pour heavily.  Anyway, I completed my day with the Berlin Wall and rushed to Tim Raue barely on time.
Chef Tim Raue's courses are heavily influenced by Asian flavors and dishes.  It's one of the handful of restaurants in Berlin with 2 Michelin Stars.   The service was great but there were things to improve on.  It's a much more relax and casual atmosphere than other restaurants in its class.  The staff wore button-up shirts and black slacks.  They look like a referees or employees of Foot Locker with their black and white stripe shirts.  However, they were all very nice and wonderful.
Anyway, Tim Raue has an a la carte menu along with a tasting menu.  The tasting menu consist of the popular items on the a la carte menu.  I decided to go with four of the most popular items on the menu since I had an early flight to Copenhagen the next morning for Noma and I was getting a little tired of tasting menus:
Pork Belly – The thinly sliced pork belly topped with a chili sauce and sesame seeds.  It was fatty and tender like a slice of beef briskets and with all of the guilty flavors of a pork.  It came in 7 slices and very small portions.  However, it was meant for taste and to get your appetite going like drinks then late night food.

Pork Belly

Suckling Pig – It was served with Japanese mustard, pickled ginger and a dashi jelly.  The suckling pig was perfectly roasted and displaying the traditional textures of a suckling pig.  The tender meat and crispy outer shell.  The tender meats inside and the salty shell went very well with my beer.

Suckling Pig

Langoustine – The langoustine was served with mango, carrot and deep fried rice.  It was marinated with wasabi mayonnaise.  The langoustine was turned over in starch flour and deep fried in a wok.  It contain a crisp bite to it and the textures of a lobster.

Langostine
Overall, Tim Raue was a good dining experience.  Tim Raue did a decent job with the dishes and the overall service was good.  However, I wouldn't say Tim Raue was the best restaurant on my Europe food tour.  It was a good restaurant relatively compared to other restaurants in its class.  Furthermore, Tim Raue is a good restaurant if you want a Michelin experience without the tasting menu.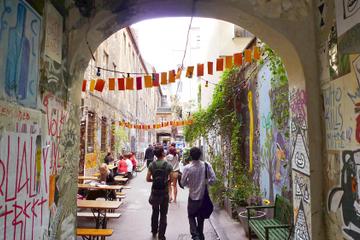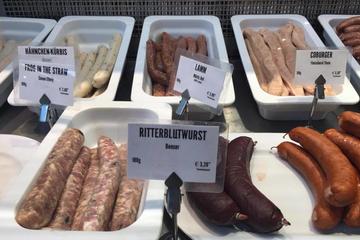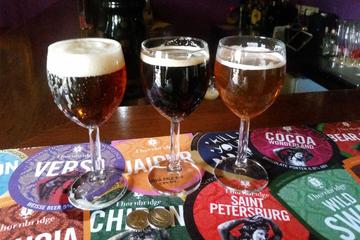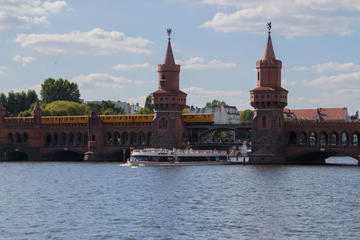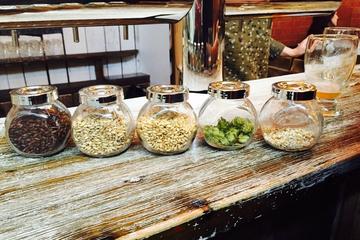 Service -

7.5/10

Presentation -

7/10

Flavors -

7/10

Ambiance -

7/10

Decor -

7.5/10
Summary
Tim Raue provides an Asian flare in Berlin. The modern decor and lighting matches the vibrant food flavors. It's something different for the locals in a town known for strudels, schnitzel, and wurst. An overall good dining experience outside the typical tasting menu decadence.