Reading Terminal Market is an extremely famous Farmer's Market in Philadelphia.  Every major city has its own Farmer's Market.  Los Angeles has Grand Central Market, New York has Chelsea Market and Portland has Pine Street Market.  
Reading Terminal Market is filled with everything from arts & crafts, produce, eateries to bakeries.  There are too many places to grab a bite to eat in the market and it would take days or even weeks to try every single food vendors.  I'm only going to mention the ones I tried and thought was noteworthy.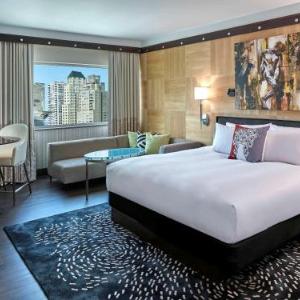 The Famous 4th Street Cookie – The freshly made cookies are baked at the stall.  The cookies are coming in and out of the oven like people at the Reading Terminal Market.  There are many cookies to pick from and anyone with sweet-tooth would not being able to turn their shoulder.  My favorite was the peanut butter one.  It was given to me right out of the oven; the dough was warm and soft.  The nutty and sweet flavors of the cookie was pretty impressive as the soft texture consumed your palate.

Peanut Butter Cookie

Tommy Dinic's – The food stall had a line wrapping around its counter, so I had to give them a try.  I went with the pulled pork sandwich.  Like every Philly sandwich, the portion was massive and each part of the bread was filled with the tender pork.  The soft fluffy bread with the slightly salted pork made it a pretty decent sandwich.  However, it was missing the extra something to put it over the top.

Tommy Dinic's Pulled Pork Sandwich

Carmen's – Carmen's is one of the many food stalls to serve a Philly Cheese Steak and Hoagies.  I went with the Philly Cheese Steak and it was delicious.  The soft texture of the bread combined with the flavorful beef and the melted cheese made it one memorable Philly Cheese Steak.  The key part of the cheese steak was beef quality.  It was definitely better than Steve's Prince of Steaks.

Carmen's Philly Cheese Steak
Overall, Reading Terminal Market provides a place to grab a snack or a meal.  Also, there are multiple choices of different cuisines to try and it has something for just about everyone.  I would highly recommend checking them out if you're ever in Philadelphia.  It's a one stop shop for all your must-try for any foodie.
Check out our other Philadelphia articles here.
$9.39
in stock
13 new from $9.39
as of February 24, 2023 9:43 PM
$17.16
in stock
10 new from $17.16
as of February 24, 2023 9:43 PM
$41.01
$41.35
in stock
as of February 24, 2023 9:43 PM
$129.45
$131.00
in stock
as of February 24, 2023 9:43 PM
Last updated on February 24, 2023 9:43 PM