Alinea sits in the Ranch Triangle area of Chicago.  It's a very charming neighborhood with two way lanes and people wandering around the little shops.  Alinea is in a converted home with multiple floors and a kitchen staff of 30 or so.  The entrance is like walking into a spaceship where the door behind you closes first then the entrance reveals itself.  Here are notable Alinea's accolades:
3 Michelin stars since 2010
$35.42
$60.00
in stock
21 new from $30.30
37 used from $24.18
as of March 28, 2023 4:05 AM
$46.63
$75.00
in stock
30 new from $42.64
21 used from $41.94
as of March 28, 2023 4:05 AM
$16.59
$40.00
in stock
73 new from $12.55
84 used from $10.12
as of March 28, 2023 4:05 AM
$53.81
$69.95
in stock
34 new from $41.00
27 used from $40.98
as of March 28, 2023 4:05 AM
Last updated on March 28, 2023 4:05 AM
The wait staff is extremely attentive and their service is where it should be for a 3 Michelin starred restaurant.  It's one of the best I've experience and I've dine at some of the best restaurants in the world.  The chefs came out to explain the dishes and had no issues of me sitting there in my white 2pac t-shirt.  The same t-shirt I wore when I dined at Noma.  However, other guests gave me stares but it didn't bother me much cause I enjoy being comfortable while dining.
The restaurant is owned and operated by Executive Chef Grant Achatz, who is an alumni of America's prized Chef Thomas Keller.  Thomas Keller is known for the French Laundry and Per Se.  He is the godfather of the American fine dining and responsible for many of the top chefs in the United States like Benu's Corey Lee.  However, Grant Achatz diverges from Thomas Keller's cuisine and is the top chef in the United States when it comes to Haute Cuisine.  Chef Grant Achatz food presentation is simply art. o
Now, the food. The molecular gastronomy aka Techno-emotional cuisine aka Avant-garde cuisine is an interesting way to do things.   Whatever you want to call it.  It's amazing.  The presentation totally blew my mind as I never experience some of the things Achatz has done at Alinea.

Pebble – The dish resemble pebbles on the beach.  It's Ebi, Ogo and Clam Shells.  The overall taste of the dish was interesting and very fresh in nature.   They asked us to imagine being on a beach while they explained the dish.  The dish's flavors were very simply and nothing too complex.

Pebbles

Chocolate – Crystal clear chocolate by frozen distillation.  They pretty much took chocolate, purified it and removed all the bad parts of the chocolate.  It played with your mind when you at it cause we usually think of chocolate being dark or white.  However, the chocolate was clear.  It threw your visual senses and palate in a whirl wind.

Chocolate

Graffiti – Hazelnut, Perigord and Balsamic served on a cement plate.  It was inspired by Noma's foraging concept.  Grant Achatz dined at Noma and it gave him the idea of bringing the Chicago streets to the dinner table.  The dish was apart of the dessert portion of the menu. The sweet hazelnut and perigord looked like pieces of a broken wall.  The syrupy and sweet balsamic looked like spray paint on the wall.  Grant Achatz the Banksy of the culinary world?

Graffiti

Balloon – It's a Green Apple flavor taffy balloon filled up with helium.  It's ingenious and a totally fun experience to eat it.  It's definitely delicate to handle cause I saw it deflate on a chef many times before he got to the dining room.  You get the whole helium affect on your voice like a guy getting kicked in the you know what.

Balloon
Alinea is the epitome of a dining experience. They take you through a journey with every dish.  From the Pebbles to the Balloon to the Graffiti plate.  Lastly, I would definitely recommend Alinea if you want a complete dining journey.  It's creative, innovative and a stand out in its class.  It can't be labeled as culinary art because it's simply art.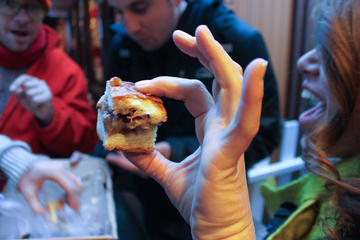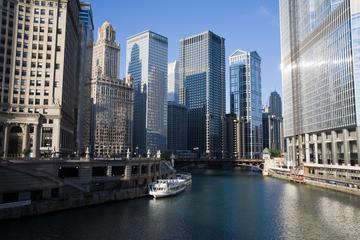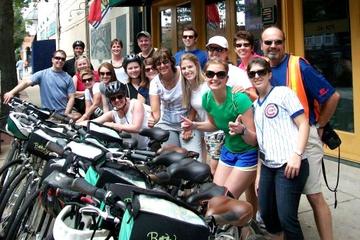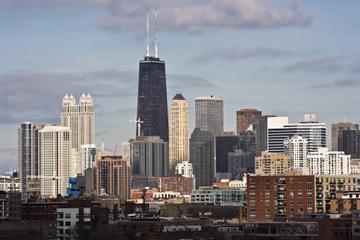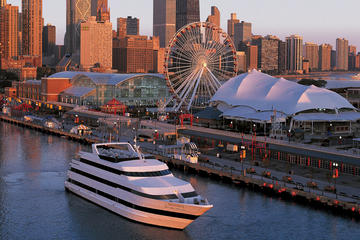 Service -

8.5/10

Presentation -

10/10

Flavors -

7/10

Decor -

7/10

Ambiance -

7/10
Summary
Chef Grant Achatz takes you on a dining journey from beginning to the end. It's a must experience ride with visually impressive dishes that are playful and artistic. There's a reason why he is considered the top American Haute Cuisine chef. His food is his art.