Lagkagehuset is a chained pastries shop in Denmark.  It has multiple shops all over Copenhagen. This location happens to be directly across from the Trivoli.
$36.55
$36.86
in stock
as of February 7, 2023 5:07 PM
$44.53
in stock
as of February 7, 2023 5:07 PM
$53.81
$69.95
in stock
34 new from $41.00
27 used from $40.98
as of February 7, 2023 5:07 PM
$25.47
$40.00
in stock
49 new from $25.00
22 used from $24.58
as of February 7, 2023 5:07 PM
$45.58
$64.95
in stock
57 new from $38.31
60 used from $37.01
as of February 7, 2023 5:07 PM
Last updated on February 7, 2023 5:07 PM
Lagkagehuset was started by Steen Stallebæk and Ole Kristoffersen.  It's a top-tier bakery concept with patrons going in and out in the morning.  The place provides organic juices and a dream location for runners to carb up before a marathon.
Lagkagehuset's counter is filled with an assortment of mouthwatering pastries, healthy sandwiches, small pizzas and brick size loaves of bread.  The large amounts of carb-licious treats are displayed through a glass window and ensures no one is picking at them.  Lagkagehuset has counter seating and a few tables in the place.  The vibe is similar to your Seattle Starbucks but minus the Apple laptops even though they provide free wifi.
It was early morning when I arrived at this location.  I was coming off a 5 AM
flight
from Berlin and wanted a breakfast as I waited for my hotel room to be ready.  I decided with the following items:
Cinnamon Roll – The cinnamon roll made any sweet-loving person gasp in amazement.  The criss-crossed layers of the pastry provided a different texture to the ones I'm familar with in the States.  The light drazzles of frosting took the sweetness over the top.  I really enjoyed the soft texture of the dough but the sweetness was a bit too overwhelming for me.  It was still a great pastry but a little too sweet for my palate.

Cinnamon Roll

Crossiant – The fluffy crossiant had a nice golden color to it and the flaky shell was fantastic.  It was the right amount of butter with the soft feel on your palate.  It was a good crossiant.
The Danish are known for their pastries and everyone who has been to Denmark raves about it.  Lagkagehuset is a good example of quality Danish pastries and definitely worth the stop when in Copenhagen.  They even have locations with the Copenhagen airport so don't worry if you didn't have time while in the city.
Check out our other Copenhagen articles
here
.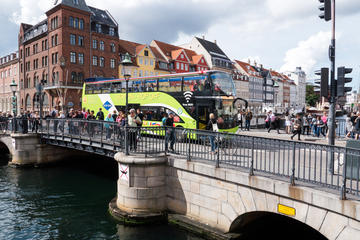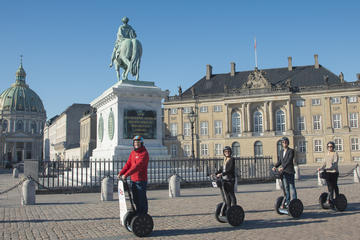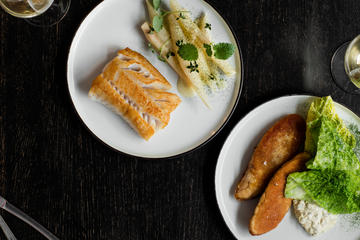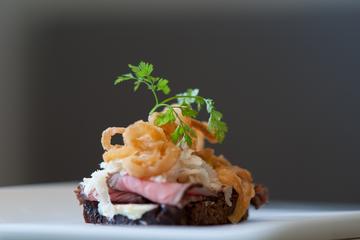 Service -

7/10

Presentation -

7/10

Flavors -

7/10

Decor -

7.5/10

Ambiance -

6.5/10
Summary
Lagkagehuset provides a great option for snacks and pastries for folks on the goal. This location is directly across from the Trivoli and the service was great. The pastries were on the same level of the service.