The Australia Dairy Company has gain international fame in the past 8 years and people line up on the sidewalk to eat here.  As many Hong Kong citizens have said, Australian Dairy Company gain its reputation for its rude service but tone it down in recent years as more tourists began to fill its tables.
$27.46
$30.00
in stock
48 new from $12.84
51 used from $13.70
as of June 10, 2023 1:56 PM
$21.25
$25.00
in stock
46 new from $16.04
75 used from $4.41
as of June 10, 2023 1:56 PM
out of stock
as of June 10, 2023 1:56 PM
$45.00
in stock
6 new from $45.00
as of June 10, 2023 1:56 PM
Last updated on June 10, 2023 1:56 PM
The Australia Dairy Company is right next door to Mak's Noodles and in the Jordan district of Hong Kong.  Australia Dairy Company is one of the oldest restaurants in Hong Kong founded in 1970 and has received many mentioned from local and international magazines.  The traditional Cha Chaan Teng (i.e., tea restaurant) specializes in milk pudding, scrambled eggs, macaroni soups and custard dishes.  It's also one of the Hong Kong's iconic restaurants and a Hong Kong institution.
It's a fairly decent size restaurant with small tables and a line that stretches down the block at times.  It's a no-frills restaurant with a menu filled with items less than USD$4.  However, the restaurant is very efficient as my whole dining experience was less than 15 minutes in and out.  In addition, there are many stories of customers being scolded for taking too long to eat.  I personally didn't have an issue with this or didn't feel the service was terrible, but I'm accustomed to "bad" service since my background is Cantonese and Vietnamese.  Since my background is Cantonese and Vietnamese, I have no hesitation to give them an attitude back and one up their rudeness cause what others consider yelling my family considers it a normal conversation.
Anyway, the decor is nothing special and there's no view of the Victoria Harbour or the streets.  It reminds me of scenes from Wong Kar Wai's Chungking Express.  It's the old charming Hong Kong that defined a period in its past and made me fall in love with it.  It's the bare bones and don't be surprised if you are seated to complete strangers.  Luckily for me, I was seated to fellow Southern Californian Cantonese folks who happened to live about 20 miles away from me.  My Cantonese is pretty much non-existent besides my extensive profanity vocabulary.  They were kind enough to assist me in ordering and I had a very lovely conversation with them about their trip.
Australia Dairy Company has a few breakfast combinations and you could change it up for a small fee of USD$0.25.  Now, the food.
Macaroni Soup – It's one of the staples of Hong Kong breakfasts as it is served in many Hong Kong cafes.  The simple dish brings back memories and a lot of Hongkongnese associate it with their childhood.  It comprises of chicken broth and soy sauce with macaroni and slices of lunch meat ham.  There are different variations of it depending on how creative you want to get.  The macaroni soup wasn't too salty but a really comforting dish to have in the morning.  The macaroni went well with the lunch meat and surprisingly light broth.

Macaroni Soup

Milk Tea – This is another Australia Dairy Company specialty.   The aroma of the tea and flavors of it were great; in addition, it was really soothing as you eat the scrambled eggs and macaroni soup.  The actual flavors reminded me of Thai Tea but not as sweet and the tea was more noticeable than Thai Tea.  It made me a fan of Milk Tea.

Milk Tea

Scrambled Eggs – Scrambled eggs are one of the Australia Dairy Company's specialties and it's comes with white toast.  The scrambled eggs are really great.  The soft and silky texture of the eggs balanced with a dash of butter and milk makes it arguably one of the best scrambled eggs I've eaten.  It had a slightly running yolk and not fully cooked finish, which added a different composition to the eggs.  It was very well done.

Australia Dairy Company's Scrambled eggs

Steam Milk Pudding – The is another Hong Kong staple in its cuisine.  The dessert could be served hot or cold and it all comes down to preference.  I prefer it cold cause I like to offset my hot meal with something cold.  The Milk Pudding has a great soothing texture with a subtly sweet flavors; its soft and not overly clunky in composition.  It's definitely defines Hong Kong comfort food like how the Eagles' guitar riffs on Hotel California brings a soothing and fond memories to your ears.
Overall, I would definitely recommend stopping at Australia Dairy Company when in Hong Kong.  It provides an efficient budget friendly meal provided by one of the oldest Hong Kong Cha Chaan Teng.  The good thing is the menu is very straight forward and don't be deterred by the rude service.
Check out our other Hong Kong articles here.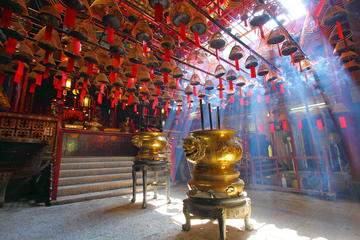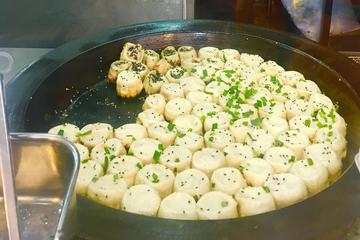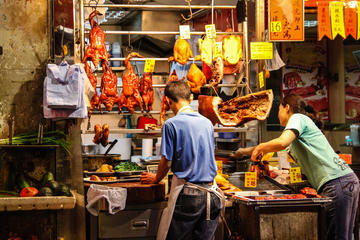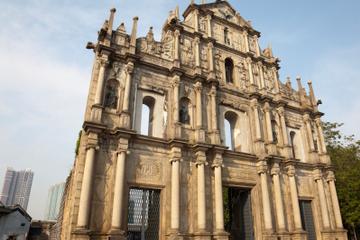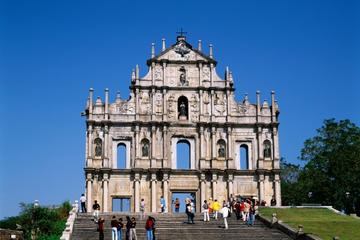 Service -

6/10

Presentation -

6/10

Flavors -

8.5/10

Decor -

7/10

Ambiance -

7/10
Summary
Australia Dairy Company is one of the oldest Hong Kong cafes. The efficient restaurant provides a quick meal even though the line could be down the block. The breakfast combinations consist of all of their specialty and makes ordering fairly easy for any non-speaking Cantonese foreigner.