Amber Restaurant servers contemporary French dishes in a town dominated by Cantonese cuisines.  The restaurant is located in the Central district Landmark hotel on the Hong Kong Island side.  The restaurant is internationally recognized and has been given multiple awards.  Here are the noticeable accolades:
$25.48
$30.00
in stock
50 new from $14.64
69 used from $11.73
as of February 7, 2023 5:02 PM
out of stock
as of February 7, 2023 5:02 PM
$45.00
in stock
6 new from $45.00
as of February 7, 2023 5:02 PM
Last updated on February 7, 2023 5:02 PM
Amber Restaurant is run by Executive Chef Richard Ekkebus who has trained in some of the most illustrious kitchens in the world under the likes of Alain Passard and Guy Savoy.  Alain Passard's Arpege happens to be one of my favorite restaurants in the world, so I decided to check out Amber.  Chef Ekkebus' restaurant sits in a city where Western and Eastern cuisines meets and I consider Hong Kong the gateway between East and West cuisine.  The Silk Road per se.
Amber Restaurant decor is elegant with a large chandelier of over 4,000 bronze rods hanging over the dining room.  The Macassar ebony chairs and walnut windor louvers utilizes Hong Kong's natural sunlight to illuminate the restaurant.  However, it's the chandelier that everyone's eyes is fixated on in the restaurant.
Amber Restaurant service is definitely on the level of every 2 Michelin stars restaurant I've eaten at; the explanations and the details to attention were great.  Service is an artful and a game of chess; a great Michelin restaurant should watch you like a hawk and be able to anticipate what you want before you actually want it.  That's what Amber did with my situation.  They knew exactly when I wanted another drink or when I was ready to move on to the next course.
Now, the food.  I go on food tours with every city I visit; from sightseeing to meals, I plan everything to the T.  I try to eat at every reputable restaurant in that town whether its a hole in the wall to Michelin restaurants.  Amber Restaurant happened to serve breakfast unlike a lot of restaurants in its class, so I decided to do breakfast here to maximize my food tour.  I went with the Central Power Breakfast with a side of assorted dim sum and I wasn't disappointed at all.
Salmon Bagel – This dish consisted of home smoked Tasmanian salmon over a toasted bagel filled with cream cheese, kyuri cucumber, lettuce capers & red onions.  The dish was very fresh and clean tasting.  The kyuri cucumbers, lettuce capers and red onions added a really refreshing and crisp taste to it.  The cream cheese was very light and wasn't overdone.  Cream cheese wasn't the focus of the dish; however, the smoked salmon and crisp vegetables were the focus.  It's one of the most memorable salmon bagels I've eaten.

Salmon Bagel

Breakfast Basket – The baker's selection of 3 mini pastries,which included a baguette, a croissant, and blueberry muffin.  It was accompany with bordier butter, seasonal jams & acacia honey.  The French inspired basket was warm when it arrived at my table.  The croissant was the star of the basket.  The light and fluffy croissant was a delight with its flakey shell.  One of my favorite croissants in this world and it reminds me that no one does bread like the French.

Breakfast Basket

Egg Benedict  – The Eggs Benedict made of English Muffin was topped with an two poached organic eggs, sautéed spinach, black treacle back bacon, and Hollandaise sauce.  It had the option of salmon or bacon.  I choose bacon because I was already having the Salmon Bagel.  The egg was cooked very well.  The sauteed spinach gave the dish an earthy flavor to it and the creamy rich Hollandaise was noticeably salty.  However, I thought the dish was a little bit too salty for my palate when the bacon was combined with the Hollandaise sauce.

Eggs Benedict

Dim Sum – The assorted dim sum consisted of Pork Shiu Mai, Har Gow, a Pork Bun, and Beef Dumplings.  The overall texture of the dim sum was plump and juicy; however, it lacked the wonderful robust flavors of Tim Ho Wan.  It's really like night and day when you compare the two.  Trust me.  I've eaten dim sum all around the world and Hong Kong easily has the best dim sum in the world.  Unfortunately, dim sum isn't one of Amber Restaurant strength.

Assorted Dim Sum
Overall, I definitely enjoyed my breakfast at Amber Restaurant and thought it was well worth the trip.  It's definitely a lot more expensive than other breakfast spots in Hong Kong but the experience of how Western breakfast holds up against Cantonese cuisine in the culinary "Silk Road" was worth the money.
Check out our other Hong Kong articles here.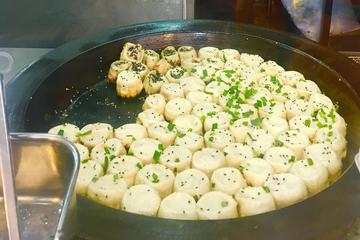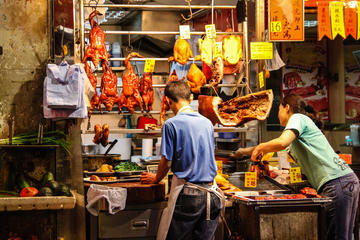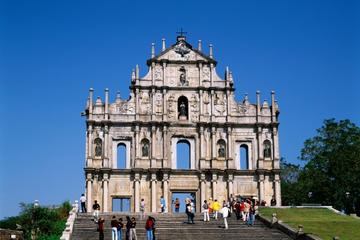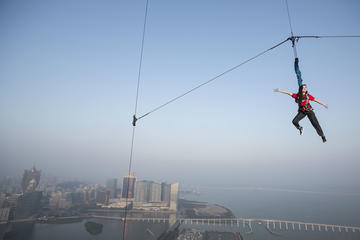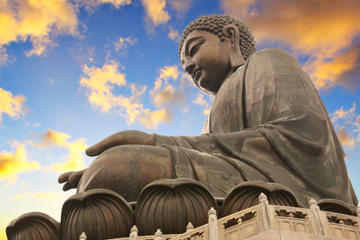 Service -

9/10

Presentation -

6.5/10

Flavors -

8/10

Decor -

8/10

Ambiance -

8.5/10
Summary
Amber specializes in French cuisines in a city I refer to as the culinary "Silk Road" due to it being the gateway of East meets West. The internationally recognized restaurant provides multiple options for breakfast, which includes traditional Western, Chinese and Japanese dishes. I would suggest going with the Western breakfast options.