Marque Restaurant is considered one of the best restaurants in Sydney and just outside of the downtown area.  It was a 15 minute drive to Marque from downtown and you really have to pay attention to it. 
$43.78
$100.00
in stock
52 new from $43.78
54 used from $49.99
as of January 23, 2023 2:26 AM
$25.47
$40.00
in stock
49 new from $25.00
22 used from $24.58
as of January 23, 2023 2:26 AM
$53.81
$69.95
in stock
34 new from $41.00
27 used from $40.98
as of January 23, 2023 2:26 AM
$45.58
$64.95
in stock
57 new from $38.31
60 used from $37.01
as of January 23, 2023 2:26 AM
Last updated on January 23, 2023 2:26 AM
Marque Restaurant sign outside isn't very distinctive or bright, so it's not very noticeable if you walk pass it.  The restaurant is very dark, so it's a good place to take someone you don't want to see in light. Marque Restaurant Sydney
This dish defined Mark Best's talents and should be his signature dish.
Anyway, we went with the Degustation menu. We didn't know what was going to be served to us until the end when we received the menu.  It was 8 courses with mainly savory dishes.  All the courses were okay to good.  I'm only going to touch on some of the better parts of the meal like a child who won't eat his veggies.
Darlings Down Wagyu with Egg Plant & Sea Blite – This is no fault of Marque but I thought this was okay.  I have A5 Japanese Wagyu at my disposable at home and tasted authentic Japanese Kobe beef.  Therefore, no slab of beef will ever compare to those two pieces of decadent beef.  The Darlings Down Wagyu was decent and definitely better than American Wagyu.  However, the texture and quality of the beef didn't do it for me.  It wasn't buttery or rich enough for me to give me the "umami" moment.

Darlings Wagyu

NZ Bass Grouper with Fish Milk and Scales – The grouper was very mild with a unique flavor.  It was firm, moist and broke apart in large flakes.  The fish scales was a great way to present it and added color to the grouper when shined in light.  The presentation was fantastic.

NZ Grouper

Redgate Farm Quail with Carrot and Miso – The quail was really moist and the skin was seared.  The carrot was soft and dissolved in your mouth after a few bites.  Definitely one of the better courses of the night and help justified Mark Best's awards.
Octopus with Prawn Custard & Witlof Kimchi – This was my absolute favorite of all the dishes.  The octopus was seared, juicy and the texture resemble lobster.  It was soft, plump and sweet.  The kimchi garnish was a nice complement if you ate the octopus with it.  This dish defined Mark Best's talents and should be his signature dish.

Octopus
The service was good.  Our drinks were always filled.  They did a decent job of explaining the prep and ingredients.  Every great restaurant has its signature service and their way of doing things.  For example, Eleven Madison Park, Alinea and Per Se.  It just seems like Marque was missing their voice like an artist who hasn't found his stroke.
Overall, I wouldn't consider Marque Restaurant to be one of the best meals I ever had but it was a good dining experience.  I don't regret trying it out and tasting Sydney's interpretation of fine dining.  Would I come back?  Not until I tried other restaurants in the area.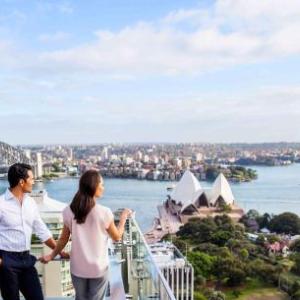 Service -

7/10

Presentation -

7/10

Flavors -

7/10

Ambiance -

7/10

Decor -

6/10
Summary
Marque does a decent job with the dishes. However, there are a lot of opportunities to improve on. The octopus was the right way to end the night as the other dishes stagger along and didn't really have a direction.