Yojie Fondue Shabu Shabu has been on my list to check out since I started working in DTLA again.  It's located in an odd area and off of the main areas in DTLA on Olympic and Grand.  It's a large restaurant especially in DTLA where space is limited like quality reviews and people who actually know what they're talking about on Yelp.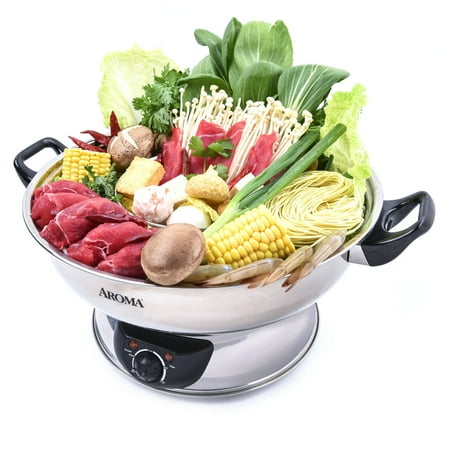 The best thing about A5 Japanese beef is you could cook it well done and it would still beat out any other beef in the world.
I was initially interested in Yojie cause I saw they serve American Kobe beef and Spicy Miso.  A few coworkers and I decided to go here for our weekly 2.5-3 hour lunch on Wednesday cause that's what we do when our manager works from home on Wednesdays.  We slack off cause when the cat is away the mice comes out and play.
To be honest, Yojie Fondue Shabu Shabu service was a bit lacking cause we had to walk up to her to pay for the bill and she only checked on us once during the time.  I would assume they would have been more attentive since it's DTLA and people are working with limited time for lunch.   HOWEVER, I'll let it slide cause she was a cutie pie.  No lie.  Luckily for us, our manager isn't a clock watcher and wasn't in the office.  In other words, I come in an hour late to work, took a 2.5 hour lunch then left at 3PM, which equate to me being in the office for about 3 or so hours.  Never mind.  That's me everyday.
Yojie Fondue Shabu Shabu la comida.  They had a variety of options for proteins (i.e., Kurobuta pork, free range chicken, sashimi grade salmon, and kobe style beef) and you could do the traditional, sukiyaki or spicy miso.  However, they recently added the A5 Japanese Wagyu to the menu.  I went with the A5 Japanese Wagyu with the side order of American Kobe beef.

A5 Japanese Wagyu – It's A5 Japanese Wagyu.  Enough said.  The marbling and color on it was pretty impressive and was a lot more than the roast I have at home.  The richness and melt-in-your-mouth tenderness was all there.  The best thing about A5 Japanese beef is you could cook it well done and it would still beat out any other beef in the world.  Trust me. I've experimented with the multiple rib eye roast I have at home.  However, to fully taste the flavor, the beef should not be cooked any further than medium rare.  AT THE MOST.
American Kobe/Kobe Style – The American knock off of Japanese Kobe beef.  It's nowhere near Japanese beef or even Australian Wagyu's quality.  However, it does its job over Angus beef any day of the week.  The beef lacked any real marbling and I watched how long I left it into the broth.  It was tender if I slightly dipped it in the hot broth like someone's ego after I'm done roasting them.
Goma – The sauce was really watery and lacked any familiar flavors of a quality goma sauce.  The goma wasn't thick and got diluted very quick.  It didn't cling to the veggies or the protein.  I don't know if it was an off day but it was really disappointing like when you first meet a hot IG chick and she forgot to bring her Valencia filter.  Yes, that disappointing.
Ponzu – The citrus-y bite to the sauce was non-existent.  It was really bland and didn't make my mouth water when I tasted it.  It didn't give a fresh contrast to the goma sauce.  It was pretty basic like a chick on IG posting pictures of coffee or half-naked bikini pictures.
Spicy Miso Broth –  To be honest, there isn't many restaurants that could get the Spicy Miso broth right.  There's only a handful I can count where I thought the Spicy Miso was on point like my reviews.  Yes, I know.  I'm pretty full of myself and I'll be here all year.  The broth looked a little out of whack and I felt it was trying to hard like wanna be socialites on a budget.
Overall, Yojie Fondue Shabu Shabu food wasn't bad but it wasn't great.  The only thing that saved the review is the A5 Japanese Wagyu cause it's A5 Japanese Wagyu.  Any restaurant serving A5 Japanese Wagyu deserves 5* automatically but the goma, ponzu and spicy miso broth lowered the overall rating of Yojie.  Lastly, I found my stop for A5 Japanese Wagyu when I want it during lunch.
Check out our other Los Angeles articles here.
$46.34
$49.01
in stock
8 new from $46.34
2 used from $39.39
as of November 20, 2023 8:57 AM
$48.58
$59.00
in stock
18 new from $45.00
as of November 20, 2023 8:57 AM
$127.26
$129.45
in stock
as of November 20, 2023 8:57 AM
Last updated on November 20, 2023 8:57 AM
Service -

5/10

Presentation -

6/10

Flavor -

8.5/10

Ambiance -

5.5/10

Decor -

5/10
Summary
Yojie is your typical Shabu Shabu restaurant, but it's on the high-end due to the quality of the proteins. The broth, goma and ponzu is average at best and the service was a bit lacking. However, Yojie serves A5 Japanese Wagyu, which makes it a reason to visit Yojie.